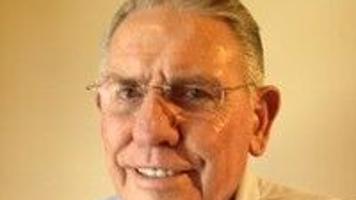 Minda McGonagle cherished the weekly lunches she had with her father, Milo "Mike" McGonagle Jr.
Their conversations always resonated with her, and she said they will continue to after the Santa Fe banking magnate died Feb. 8 at the age of 90.
"That was the time we really learned from each other and it was wonderful," Minda McGonagle said. "I think that will sustain me for the rest of my life."
Mike McGonagle was president and a board member at First National Bank of Santa Fe from 1969-85, then served as president of Century Bank from 1992-01. He remained as president and CEO of Century Financial Services Corp., the bank's holding company, until 2019.
People who worked with McGonagle praised him for being a straight shooter who also had a soft spot for community members chasing their dreams, whether it was starting a business or owning a home.
"He knew the value of human resource," said Bryan Chippeaux, Century Bank's former chairman. "He valued people and he understood it was a win–win–win when you succeed, I succeed and the business succeeds."
Jack Cowen, who worked as a loan officer at First National Bank of Santa Fe from 1969 to 1971, said McGonagle also valued his employees and would help them in their professional growth. Cowen remembered McGonagle allowed him to adjust his work schedule so he study for the bar exam.
"He treated people fairly," Rosen said.
Mott Woolley, an attorney and longtime friend of McGonagle's, said he could be very direct in giving advice, but he did it in a way that came off as fatherly more than critical.
"He told you what he honestly believed," Woolley said. "He did not like to beat around the bush."
McGonagle also had a philanthropic nature, volunteering with the Santa Fe Chamber of Commerce, running fundraising campaigns for United Way of Santa Fe and being involved with the Santa Fe Partners in Education. He also served two stints as chairman of the state Miners Hospital in Raton.
Minda McGonagle said her father taught her from an early age a person's value went far beyond financial wealth.
"How much money you have is not the measure of who you are," Minda McGonagle said. "The measure of who you are is what you do and how you are engaged in the community and how you are with your family."
Wendy Dunaway, Mike McGonagle's wife for the past 16 years, said he had integrity and wisdom. She also said he was straight to the point when he knew what he wanted, recalling the moment he expressed his romantic interest at the community mail boxes in Quail Run, where they lived.
"We both got our mail at the same area and he asked me out," Dunaway said.
Mike McGonagle was born March 7, 1930, in Sterling, Colo. His parents, Dorothy and Milo McGonagle Sr., ran a few businesses in the area, which Minda McGonagle said exposed her father to the inner workings of running small businesses.
Mike McGonagle graduated from the University of Colorado in 1952 with a degree in accounting and finance, then worked at the International Trust Company in Denver before spending two years in the U.S. Army.
In 1954, McGonagle joined the management team at Thermal Engineering Corporation in Houston before moving to Santa Fe in 1964 to work for Eberline Instruments Corporation.
Woolley said Mike McGonagle liked the small-town charm of Santa Fe in the 1960s, and the community grew on him.
"I think he liked the many different ethnic groups out here — the Native Americans, the Hispanics," Woolley said. "I think that really stimulated him. I wouldn't say he would go to an art gallery, but he did like the ambiance of Canyon Road and the piñon smoke coming out of the chimneys in the winter. That was the beauty of the place."
The area also allowed him to indulge in some of his favorite activities. Dunaway said her husband skied and hiked, while his daughter mentioned a favorite past time the two enjoyed was playing card games.
Mike McGonagle also was an avid golfer, which Chippeaux said he did into his 80s before his health slowly deteriorated. Chippeaux added that McGonagle focus wasn't so much on the game but the company he kept.
"It was the camaraderie of getting a bunch of folks together and having a good time," Chippeaux said.
Dunaway said her husband had a young spirit, even as he grew older. He was active and was a voracious reader.
"He had an intellectual curiosity and he kept it even though he was dealing with the problems of getting older," Dunaway said. "He was my best friend, and I've lost my best friend."