By
November 17th, 2020 | Last updated on November 17th, 2020
Home »
Poker
News »
PokerStars Sets MicroMillions for November 19-29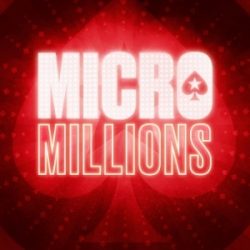 One of the most popular online poker series returns this month on PokerStars. And it turns out to be a very good time for MicroMillions, the low buy-in tournament series that welcomes players of all bankrolls.
As much of the world returns to some form of lockdown status due to a resurgence of the coronavirus pandemic, poker players may be looking for some excitement online this month. And with the global economy suffering as a trickle-down effect of the pandemic, many players will welcome the low buy-ins.
Earlier this year, PokerStars hosted a MicroMillions series with 100 tournaments and $2.6 million in prize pool guarantees. At this time last year, MicroMillions offered 147 tournaments and $4.3 million in guarantees.
Now, in what appears to be the 18th iteration of MicroMillions, the series will offer 117 tournaments and more than $3.5 million guaranteed.
MicroMillions 18 Details
The series is set to begin on Thursday, November 19. Over the 11 days of this MicroMillions, players will be able to choose from 21 different poker variations. While the majority of events will be some form of Hold'em, there will also be several Omaha events as well as Stud, Triple Draw, 6+, Badugi, Razz, 8-Game, and some old PokerStars signature games like Fusion and Showtime.
Buy-ins will begin at just $1.10 and top off at $11 with the sole exception of the Main Event and its $22 buy-in. But that Main Event also boasts of a $1 million guarantee.
Satellites will run for just pennies on the dollar, and special edition Spin & Go opportunities will begin at just $0.35.
The entire series will guarantee at least $3.5 million. And five tournaments boast of guarantees of $100K or more.
#MicroMillions is back.
? Nov 19-29
▶️ 117 events
? Buy ins from $1.10
? 1M GTD Main Event
Details: https://t.co/p8ltXHr6w7 pic.twitter.com/K8T0Dz7NAE

— PokerStars (@PokerStars) November 13, 2020
MicroMillions 18 Highlights
As mentioned, the MicroMillions Main Event will be the main attraction, obviously.
–Event 111 / Sunday, November 29 at 13:00: $22 buy-in NLHE Main Event ($1M GTD)
And to give players a taste of the schedule, here is the rundown of events on just the first day – Thursday, November 19 – of the series. (All times listed are Eastern.)
–Event 1 at 11:00: $1.10 buy-in NLHE PKO Heads-Up Zoom ($5K GTD)

–Event 2 at 11:30: $3.30 PLO-8 8-Max ($10K GTD)

–Event 3 at 13:00: $1.10 NLHE ($20K GTD)

–Event 4 at 14:00: $11 NLHE Opener ($100K GTD)

–Event 5 at 14:30: $3.30 NLHE 8-Max PKO ($40K GTD)

–Event 6 at 16:00: $5.50 NLHE Showtime 6-Max ($10K GTD)

–Event 7 at 17:30: $1.10 6+ Hold'em 6-Max ($5K GTD)

–Event 8 at 19:00: $5.50 NLHE 8-Max Slug Blinds ($15K GTD)

–Event 9 at 20:00: $3.30 NLHE 7-Max PKO ($10K GTD)
Each day of the series offers a range of events. For example, Day 2 of the series on November 20 (Friday) will host 10 events, November 21 (Saturday) will offer 12, and November 22 (Sunday) another dozen.
Check out the full schedule here on the PokerStars blog.
MicroMillions is back on @PokerStars this month. ?

It's the online series that saves zeroes for the guarantees not the buy-ins. ?

Get all the details and schedule… ? ⬇️ https://t.co/FL5pRJSNmY pic.twitter.com/38Dq0iQDf9

— PokerStarsBlog (@PokerStarsBlog) November 13, 2020