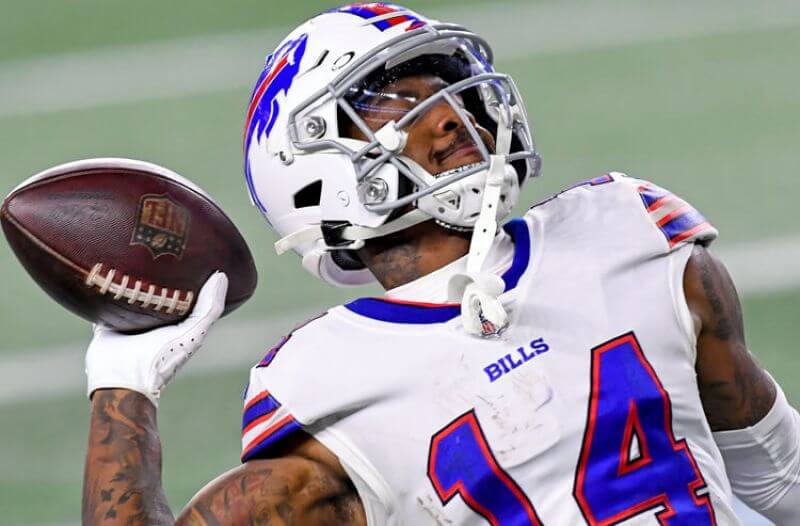 The NFL playoffs are down to four final matchups for Divisional Round betting and the spreads and totals for those games still have that new car smell after hitting the board late Sunday night.
These will be some of the toughest NFL lines to beat all season, as bookies and bettors know the remaining eight teams inside and out. That makes getting the best of the number all that more important and remains the sharpest NFL betting strategy for the Divisional Round games.
These are our best NFL betting tips for which Divisional Round odds to bet now and which ones to bet later.
Los Angeles Rams at Green Bay Packers (-7): Bet Now
The Packers earned one of the exclusive postseason byes into the Divisional Round, giving them time to rest up and study their potential opponents. Aaron Rodgers & Co. finished the schedule on a six-game winning streak, averaging 33.5 points per game during that red-hot run (4-2 ATS)
The Rams defense will put that scoring attack to the test. Los Angeles smothered the Seattle Seahawks in the Wild Card Round and has limited its last five foes to 14.6 points per contest. However, L.A. does have some injury concerns entering the next round of the playoffs. Pass rush god Aaron Donald is nursing tender ribs, top WR Cooper Kupp is cutting on a sore knee, and QB Jared Goff is still healing up from thumb surgery just three weeks ago (remember, he didn't get the start in the Wild Card Round). All three are expected to suit up, however.
Some books are dealing the Packers as touchdown chalk while others are at Green Bay -7.5. The weather in Wisconsin is going to be cooler than a polar bear's toe nails this weekend and the Pack are 4-2 SU and ATS at Lambeau Field in the postseason since Rodgers took over the QB1 gig. If you're taking a big bite of Cheese this weekend, make sure you get it now at -7 and avoid having that half-point hook stuck in your throat.
Covers NFL betting analysis
Baltimore Ravens at Buffalo Bills (-3): Bet Later
Even before the Browns and Steelers were at halftime, some online books had this AFC Divisional Round spread on the board. Buffalo opened as a field goal fave at home but the vig was giving back +106, indicating that any early money on Baltimore could bump this under the key number of a field goal.
Buffalo edged Indianapolis by three points as touchdown chalk at home in the Wild Card Round, despite the Colts purely outplaying the Bills, out-gaining them 472 yards to 397 yards and dominating time of possession to the tune of 34:17.
All the Ravens did this past weekend was go into Tennessee and earn their sixth straight win and cover with a solid two-way effort, most notably limiting the Titans' fourth-ranked scoring attack to just 13 points. Momentum is worth its weight in gold during the postseason.
Some offshore books have already taken this spread down a half-point tick, dealing Buffalo -2.5 (-120). If your bookie is still hanging Bills -3 and you like the home side in this AFC Divisional Round war, wait it out. This one could fall even further before kickoff this weekend.
Tampa Bay Buccaneers at New Orleans Saints (Under 51.5): Bet Later
To quote San Diego news legend Ronald Burgundy, "Boy that escalated quickly."
The total for this NFC South trilogy hit the board as low as 49.5 points at some books and within minutes bounded as high as 51.5 (Over -115). Even after the Saints slow-played the Chicago Bears to a 21-9 win in the Wild Card Round, bettors are backing a fireworks display in the Big Easy this weekend.
This will be the third time these divisional foes have faced each other this season, with the teams going Over the 48.5-point total at NOLA way back in Week 1 and staying Under the 51 in Tampa in Week 9. The Saints won both games with scores of 34 and 38 points—the two highest point totals allowed by the Buccaneers this season.
But, besides all the offensive weaponry on both depth charts, we also have the No. 2 versus No. 5 defenses in DVOA at Football Outsiders butting heads in the Superdome. Neither team can afford the other to build momentum, so expect some offense on defense and a slower, plodding pace as they each try to ice their respective rival future Hall of Fame QB.
The Brady vs. Brees hype could continue adding points to this total, so if you like lower-scoring football, see if it goes 52 or higher before coming back on the Under.
Cleveland Browns at Kansas City Chiefs (Under 54.5): Bet Now
How quick do you have to be to get the best of the NFL odds? Well, as of this writing the Browns are still working on the Steelers and some online books have already hung a line on Cleveland-Kansas City. For our purposes, we're looking at the opening total of 54.5 points.
Cleveland just swamped Pittsburgh with plenty of points, however, some of that scoreboard work came from the defense. The Browns benefitted from a nightmare first half from Ben Roethlisberger and received plenty of extra reps with the football, so we're not as smitten with this scoring attack as we are with Cleveland's defense.
Kansas City, on the other hand, is Kansas City. Points could fall from the skies over Arrowhead this Sunday. But so could snow. The extended forecast in Missouri is calling for a chance of the white stuff this weekend. The Chiefs stop unit has snoozed a bit in the second half of the schedule but allows just 22 points per home game and can find another gear in the postseason, coming into the Divisional Round rested and ready off the bye.
If you like the Under, I'm going to say grab it now. The Browns offense isn't as good as it looked in the Wild Card and staying ahead of possible bad weather is a smart move. Start following those Kansas City meteorologists on Twitter.
Where Can I Get the Best Odds on the NFL?
You can bet on NFL odds at every online and casino sportsbooks, including NFL moneylines, spreads, Over/Under totals and a ton of NFL prop odds. Head over to our best-suggested sportsbooks for the top spots to bet on NFL odds in your area.