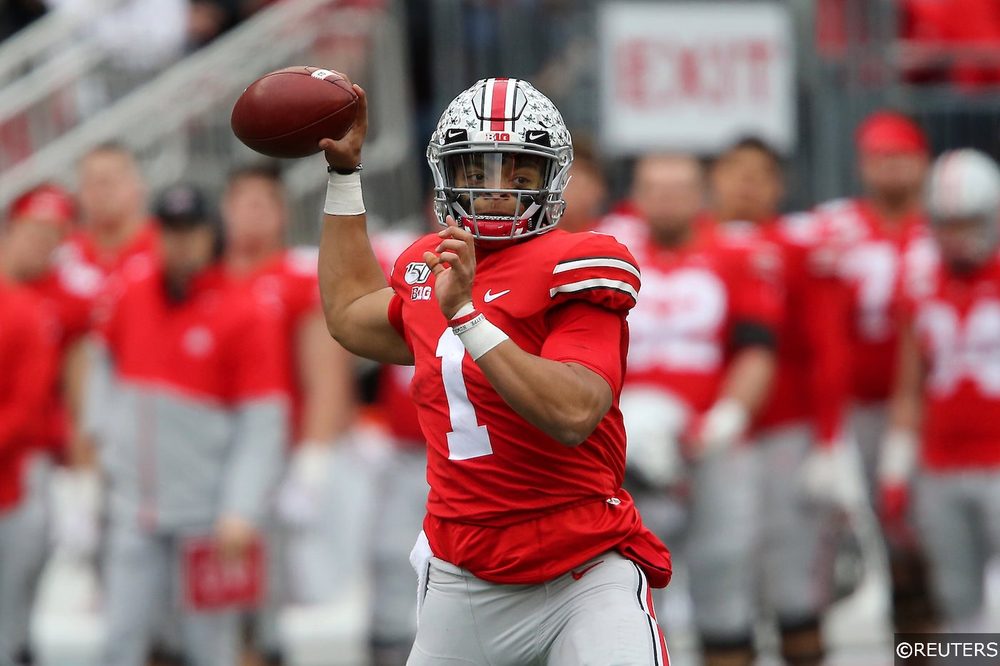 College football lines are out for Week 12, and it's great to have all the conferences back in action. The PAC 12 is finally back in full swing, and we've got a great slate of games after we had some big ones canceled due to COVID-19 last week.
You can often get the most value early in the week by exploiting opening lines before they get adjusted too much by sharp action, and today we'll be looking at the lines for all the biggest games this weekend. As always you can check out our 'NCAAF picks' tab for free breakdowns on all the biggest games, which are usually posted by Wednesday.
College Football Week 12 opening lines
#9 Indiana @ #3 Ohio State (-20.5)
#4 Clemson (-34.5) @ Florida State
#7 Cincinnati (-6) @ UCF
#10 Wisconsin (-7.5) @ #19 Northwestern
Kentucky @ #1 Alabama (-30.5)
Kansas State @ #17 Iowa State (-11)
Tennessee @ #23 Auburn (-10)
#14 Oklahoma State @ #18 Oklahoma (-7)
#21 Liberty @ NC State (-3.5)
#20 USC (-2.5) @ Utah
This week's slate is certainly better than last week's in terms of big games. Clemson is a huge favorite over Florida State, and I can't wait to see how they respond to their loss to Notre Dame. This will be Trevor Lawrence's first game back since catching COVID-19, and the Tigers will certainly be motivated to make a statement here and punish the Seminoles. As such, it certainly wouldn't be surprising to see them running up the score here and not taking their foot off the gas.
This Indiana @ Ohio State game is interesting from a spread perspective, as it's not too often that you see a top-ten team be an underdog of nearly three touchdowns. Clearly, oddsmakers don't agree with AP voters about Indiana being the ninth-best team in the nation.
Oddsmakers also continue to think Cincinnati is overrated, even though they keep racking up wins. Wisconsin is getting plenty of respect now after their dominant win over Michigan, and they've come a long way to be a multi-score favorite on the road against a ranked team.
Do I like any of the opening lines?
A couple of these are intriguing to me. I lean toward Oklahoma State getting a touchdown in this rivalry game. The Cowboys haven't really been able to hang with their in-state rivals in recent years, but 2020 is a different story. This Oklahoma State team is legit, and Oklahoma is the worst they've been in some time. The Sooners know they aren't going to the playoff this time around, so I don't think they'll be as motivated as the Cowboys. It wouldn't surprise me if OSU wins this one outright either.
I also think the Trojans pick up a third straight win, and this one won't be as close. It's easy to say USC has gotten lucky through their first two games, but those crazy finishes will serve them very well the rest of the season in terms of learning how to win. I think their first two razor-thin victories had more to do with Arizona State and Arizona being better than most people realized than anything else. Utah lost a ton of talent from last year's team, and they've yet to play a game this season due to COVID-19 cancellations.
When do the lines open?
Most legal online sportsbooks post their lines on Saturday night after the week's games or on Sunday morning, with limits increasing throughout the week as it gets closer to kick off.
Who sets the college football opening lines?
Oddsmakers launch their opening lines as an educated guess at where they think the line will attract action on both sides. Early line movements usually indicate sharp action. Even though limits are small, sharps are the first ones thinking about opening lines. The lines will continue to move as the week goes on, limits increase, and more information becomes available such as injury reports and weather forecasts.
At Pickswise we offer free expert College Football Picks and Predictions for all games in the Power Five conferences and the top 25 teams outside of Power five, including our College Football Parlay picks each week.
Last updated: Tue 17th November 2020