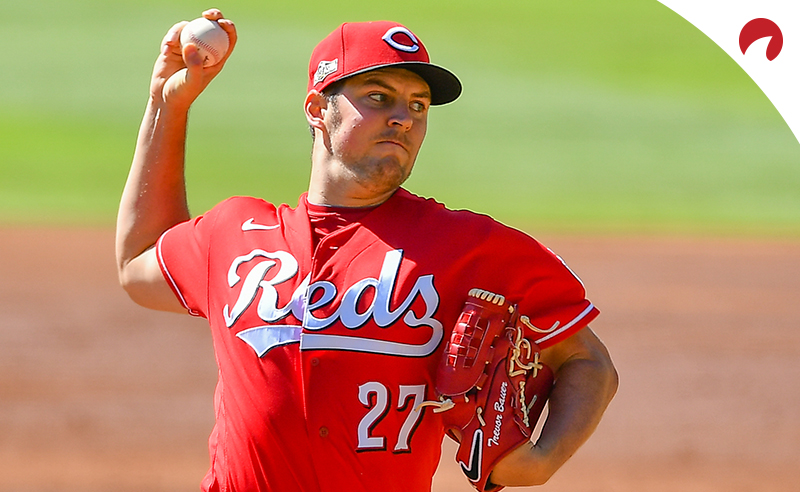 The shortened 60-game season concluded with the Los Angeles Dodgers winning their first World Series since 1988. Now we can move on to the fun stuff, MLB free agency. Sportsbooks have released odds for some of the big names on the free-agent market, with four or five potential destinations.
See Odds Shark's Best MLB Sites
There are nine players on the Bodog oddsboard, including NL Cy Young Award winner Trevor Bauer and AL batting champion DJ LeMahieu. It's fun to speculate on where MLB free agents might end up, but you need to do your homework to see which players fit in with the right team.
Where Will The Big Names Land?
What team will Trevor Bauer play For next season?

| Team | Odds |
| --- | --- |
| Los Angeles Dodgers | EVEN |
| New York Yankees | +150 |
| Philadelphia Phillies | +550 |
| New York Mets | +650 |
| Atlanta Braves | +1000 |
Odds as of November 13 at Bovada
Who Will Reel in Bauer?
Let's start with the biggest fish on the market. Trevor Bauer is coming off his first NL Cy Young Award after finishing with a 5-4 record and a dazzling 1.73 ERA that led the national league.
Bauer will be the top-paid player on this list – just look at what Gerrit Cole signed for last year. The 2011 third overall pick will be coveted by many teams to help bolster their rotation, with some big markets listed on his MLB free-agent oddsboard. He is pegged as an ace on any team he joins and the money will dictate that.
One option is the New York Mets at +650. New owner Steve Cohen has said he is willing to spend big dollars so they can be a competitive team. Bauer would give the Mets the most fearsome rotation in MLB teaming up with Jacob deGrom, Noah Syndergaard and Marcus Stroman.
Another option is the big-spending New York Yankees. It will be interesting to see if they are willing to throw around big money for another starter with so much cash already committed to Cole and Giancarlo Stanton and with Aaron Judge set to become a free agent next year.
General manager Brian Cashman will have to make some tough decisions. With Masahiro Tanaka hitting free agency as well, the Yankees are now thin in the rotation and the addition of Bauer would give them a formidable 1-2 punch.
what team will DJ LeMahieu play for next season?

| Team | Odds |
| --- | --- |
| New York Yankees | -125 |
| Toronto Blue Jays | +225 |
| Washington Nationals | +450 |
| Los Angeles Angels | +650 |
| Los Angeles Dodgers | +700 |
Odds as of November 13 at Bovada
Expect A Big Raise for LeMahieu
Speaking of those Yankees, what are they going to do with DJ LeMahieu? LeMahieu is coming off a two-year, $24-million contract, which was incredible value for the production he was able to provide. In two seasons in pinstripes, he had a batting average of .345 and won the AL batting title this season.
Not only is he a capable hitter who can spray it all over the field, but he can be moved around the infield without compromising his defense. LeMahieu spent time last season at first, second and third base and that flexibility will be very appealing for his suitors.
Another option could be the Washington Nationals, who have +450 odds to land him. The Nationals followed their first World Series win with a sluggish performance in the shortened season. They have some all-stars in Trea Turner and Juan Soto, and having LeMahieu at the top of the lineup would create one of the most fearsome trios in the league.
what team will George Springer play for next season?

| Team | Odds |
| --- | --- |
| Houston Astros | EVEN |
| Chicago White Sox | +130 |
| Toronto Blue Jays | +600 |
| New York Mets | +650 |
| Philadelphia Phillies | +1000 |
Odds as of November 13 at Bovada
Springer On The Move?
Now this one fascinates me. In terms of MLB free-agent predictions, Springer is the one I am least sure of. He is a three-time all-star and a proven playoff hitter who was the MVP of the 2017 World Series.
He's a guy who can bat anywhere in the lineup, but with his great speed and athleticism, he's best suited in the leadoff position. When I look at the board, I think the Houston Astros at EVEN money are probably the lock. The Astros need Springer more than he needs them.
He is an outstanding defensive player in center field and is capable of stealing bases as well. The Astros have already locked in Jose Altuve and Alex Bregman long term and Springer will command more than the $21 million he made last year. The question is are the Astros willing to pay him big money?
Don't count out the Toronto Blue Jays. The Jays surprised everyone by making it into the expanded playoffs last year, showcasing their young talent. General manager Ross Atkins has said that he is willing to spend money to help this team compete.
The Jays have a plethora of young talent, and adding a veteran in Springer would only help progress the other players in the lineup. The one problem for the Jays is that they are somewhat set in the outfield. With Randal Grichuk, Teoscar Hernandez and Lourdes Gurriel Jr., is there even room to fit him in?
I would venture to say yes. Manager Charlie Montoyo showed that he isn't afraid to move guys around the field. If they do pull the trigger on Springer, I could see Gurriel moving to third base to open up one of the outfield positions. If the Jays are looking for a proven veteran who can help elevate this young roster, Springer is the guy they should focus on.
Here are the MLB free-agent odds for the other six players:
What team will didi Gregorius play For next season?

| Team | Odds |
| --- | --- |
| Philadelphia Phillies | +150 |
| Cincinnati Reds | +175 |
| Los Angeles Angels | +250 |
| New York Yankees | +550 |
Odds as of November 13 at Bovada
what team will ha-Seong Kim play For next season?

| Team | Odds |
| --- | --- |
| Toronto Blue Jays | +200 |
| Oakland Athletics | +200 |
| Texas Rangers | +250 |
| Chicago Cubs | +450 |
| Seattle Mariners | +475 |
Odds as of November 13 at Bovada
what team will JT Realmuto play For next season?

| Team | Odds |
| --- | --- |
| Philadelphia Phillies | -140 |
| New York Mets | +250 |
| New York Yankees | +250 |
| Washington Nationals | +1000 |
| Houston Astros | +1500 |
Odds as of November 13 at Bovada
what team will Justin turner play For next season?

| Team | Odds |
| --- | --- |
| Los Angeles Dodgers | -400 |
| Washington Nationals | +350 |
| Atlanta Braves | +450 |
Odds as of November 13 at Bovada
what team will Marcell Ozuna play For next season?

| Team | Odds |
| --- | --- |
| Atlanta Braves | +125 |
| Washington Nationals | +150 |
| Chicago White Sox | +350 |
| Texas Rangers | +550 |
| Cincinnati Reds | +1100 |
Odds as of November 13 at Bovada
what team will Masahiro Tanaka play for next season?

| Team | Odds |
| --- | --- |
| New York Yankees | -500 |
| New York Mets | +400 |
| Toronto Blue Jays | +475 |
Odds as of November 13 at Bovada